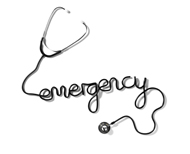 Normal surgery hours are between 9.00am and 6.00pm on weekdays.  Outside of these hours and at weekends please ring 0207 349 1499 (24 hour service) to speak to the local duty doctor covering my practice.
Emergencies occurring during normal practice hours will be dealt with promptly and patients can normally be fitted in on the morning or afternoon that they ring.
For life threatening emergencies (e.g. severe chest pain), please ring 999.